Restorative Dentistry – Towson, MD
Restore Your Child's Brilliant Smile
If your child has a cavity or has suffered an oral injury of some kind, call Kids Dental Space right away! A decayed or damaged tooth always needs to be examined by a dentist as soon as possible. Dr. Roxanne has a variety of ways to address the damage and keep your child's smile whole. Each option for restorative dentistry in our Towson, MD children's dental office is personalized, so your child still has a beautiful, natural-looking smile after treatment.
Why Choose Kids Dental Space for Restorative Dentistry?
Silver Diamine Fluoride for Treating Cavities
Beautiful Tooth-Colored Restorations
Gentle Dentist, Comfortable Dental Office
Silver Diamine Fluoride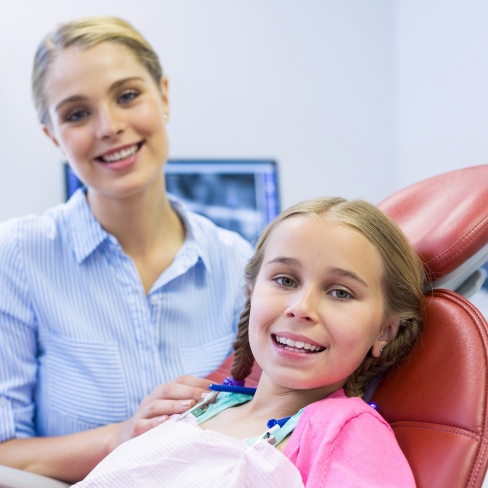 While regular fluoride already helps protect the teeth against decay, silver diamine fluoride is recommended for children who already have cavities. When applied to the tooth, silver diamine fluoride can kill the harmful bacteria that are causing the decay, preventing the cavity from growing any bigger. It also strengthens the tooth and lowers the risk of future cavities developing. The process is quick and painless, making it a great choice for young children or children with special health care needs who might not be able to undergo traditional restorative treatments. Treatment using this medication will leave a permanent black stain on the arrested lesion. Ask our friendly team for more details.
Pulp Therapy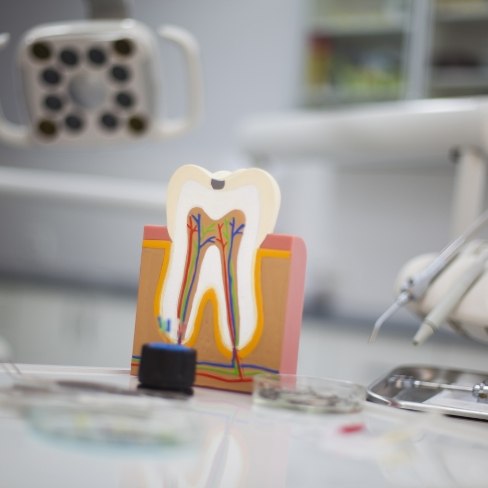 The pulp that nourishes your child's tooth can become injured or infected, leading to constant unexplained pain, sensitivity to warm and cool food temperatures, swelling, and a loose tooth. If the tooth can still be saved, we may recommend pulp therapy, a procedure where we remove part of the pulp or the entire pulp to prevent the damage from spreading any further. Call us immediately if you notice any symptoms that point to a problem with your child's dental pulp; acting quickly could make all the difference in letting your child keep their natural tooth.
Tooth Colored (White) Dental Crowns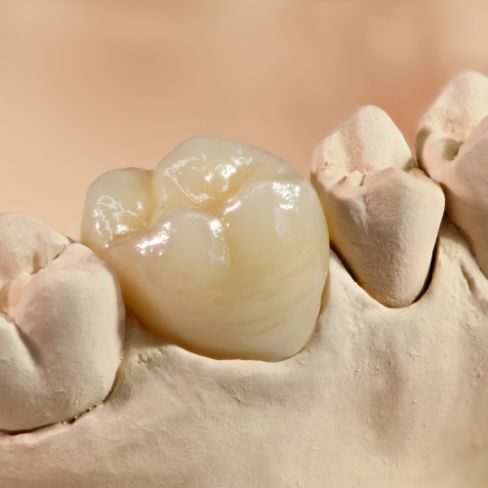 We usually recommend tooth colored (white) crowns for more visible teeth that have been too badly damaged for a filling. The materials used to make the crown have the same color and light-reflecting properties as tooth enamel, giving them a very lifelike appearance. That said, they are still very durable and can stand up to the forces that natural teeth need to endure on a regular basis. They will provide your child's teeth with many years' worth of protection while allowing them to eat, speak, and smile normally.
Tooth-Colored Fillings
After the decay has been removed, the cavity left behind needs to be filled back in. You may remember getting fillings made out of metal, but today we can offer tooth-colored composite resin instead. The material will bond directly with your child's tooth, strengthening it from within. It will be carefully shaded to blend in with the rest of the tooth, so when your little one shows off their smile in the future, most people won't even realize that they ever had a cavity.
Stainless Steel Dental Crowns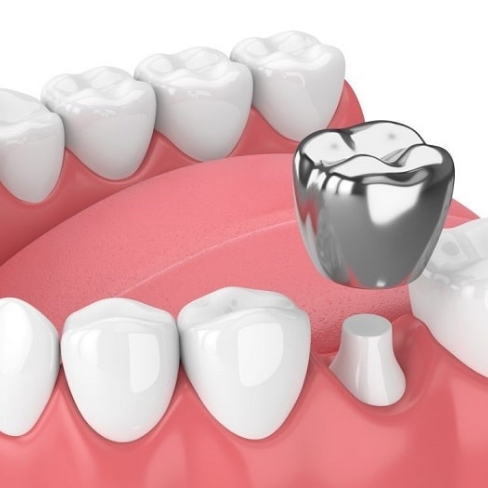 Stainless steel crowns are the restoration of choice for the molars or other teeth near the back of the mouth. Since they'll be in a place where most people won't ever see them, your child won't have to worry about having a dark-colored spot on their smile whenever they have their picture taken. Meanwhile, their teeth will be able to enjoy the strength and durability that metal crowns can offer. We'll be happy to help you decide whether a stainless-steel crown or a metal-free crown is best for your child.